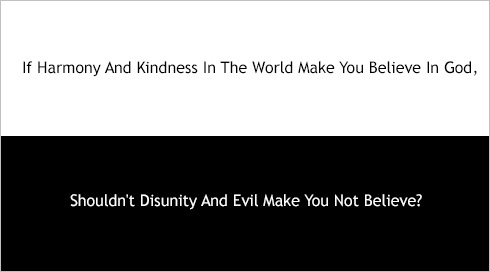 Dear Jew in the City,
I recently read your article on faith, but this is where things get a bit fuzzy for me: "If reason and discernment are necessary in guiding our emunah, what pushes me towards belief (and trust) in God? When I look at the complexity of nature and cosmology; when I see certain events in my life fitting together in a perfect harmony; when I witness an exceptional act of kindness by another human being, I detect Godliness in it all."
Whereas two paragraphs earlier you say: "I know I have it both ways, and I'm OK with that. I believe that all aspects of life - no matter how challenging or incomprehensible they are - come from a Higher place. But can she prove it, you may wonder? No, she can't, and she's OK with that too."

So if the proof, or the reason you feel compelled to believe, is the perfection of nature and cosmology, aspects of your life fitting together in perfect harmony, or an exceptional act of kindness, what happens when things don't work out perfectly, when someone acts like a jerk? Shouldn't that compel you to not see the divine?
Sincerely,
M
Continue reading If Harmony and Kindness in the World Make You Believe in God, Shouldn't Disunity and Evil Make You Not Believe?